Greetings our loyal fans and first-time visitors! In the current landscape of fierce competition and struggle for the client base, this gambling software developer not only has one of the most appropriate and intimidating names, it actively lives up to it.

Rival Gaming is worth following really closely, especially if you want to enter the industry. Designing a wide variety of great titles as well as providing various different services including software sales, this casino is guaranteed to appeal to even the pickiest gambler. But let us speak one at the time.
This gaming software provider works closely with the 2WinPower company, and everyone who would like to obtain the consultation or the ready-made software for an online gambling business has a possibility to contact the 2WinPower company right now and begin the collaboration instantly!
Rival's story begins in the year 2005 in the United States. With a creative team behind it all the member of which had a lot of experience while working with other gambling software companies, Rival Software Casinos was destined to be successful from the start. It entered the market not so saturated back then in the best moment imaginable, giving consumers exactly what they wanted. At first, it used GiGse as a starting platform, to gather a lot of attention, but quite soon it became a household name. It was enough to see the Rival Logo to get excited.
It's been in the business for over a decade, surviving several serious controversies including the notorious gambling regulation act just to keep making gamblers all over the world happy. After all, this has always been a part of Rival team's business philosophy: understand what the client-base wants the most and make games that people will love playing. And so far it's been working fantastically.
Rival's catalogue offers one of the most diverse and compelling in the industry today. As of summer 2018 rival has produced about 260 games. They are available in 11 languages and accessible via 52 online casinos. Rival Software Casinos games are all designed with the help of such progressive technologies as JavaScript, PHP and Adobe Flash which gives the graphics and artwork a distinct look and smooth animation.

The selection includes table games, video pokers, speciality games and of course slots, the most popular group of all online gambling. Rival Software Casinos slots can be divided into progressive, 5 reels, 3 reels and I-Slots. The latter is a new and bold take on the story in slots, as every new win drives the plot forward while it's accompanied by some stunning visuals and original art-style. Some of these story-driven games are episodic, which means that chances are you will experience the ultimate immersion into the story and want to play all of them just to see the whole picture. Truly fascinating innovation.
Here is the list of just a few of the best slots Rival Software Casinos have to offer:
Reel Crime;
Hole in Won;
Rock On;
Japan-O-Rama;
Wild Safari;
Spy Game;
A Switch in Time.
Just name of few. This list is constantly expanding, with seven brand new titles being added to an already impressive resume made by Rival just presently. Be sure to visit the Rival Software official website to receive additional information and stay up to date with their upcoming releases.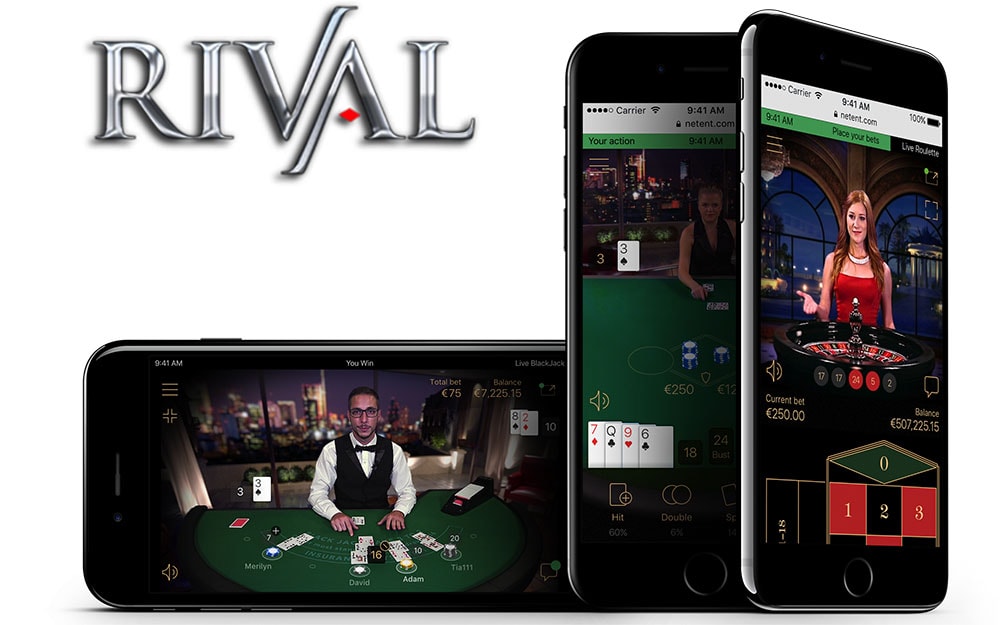 Rival Software Casinos are also a fully operating instant play online casinos, which means that a good portion of its games is playable on mobile devices with no app required to be downloaded. And it only gets better from here. The latest HTML5 ensures visuals and graphics so impressive they're borderline indistinguishable from the desktop counterparts, and rich and divers betting options make all of the bets as exciting as if you indeed have a small casino with all its benefits in your hands. You can play them on any iOS, Android and Windows-powered virtual device.
If having all this variety of titles and savoury information was not enough to want start playing right now, here are some more: asides from their fun gameplay and exhilarating visuals, Rival Software Casinos have another major attraction factor which is No Deposit Bonuses. No Deposits are perfect for any beginner in the gambling sphere. With No Deposit bonus, you can play games for a certain amount of time without risking your actual money.
Rival Software Casinos is a very versatile company. It is no longer limited by game development alone. Since 2014, the company has been running its own gambling platform called Casino Controller.

This bold and fresh platform performs many functions: it gives an instant access to any information regarding gambling (especially Rival products) and sets up games between multiple players remotely with impressive number options for customization. In addition to all of this, it is easily accessible via mobile devices and can be furthermore protected by a built-in fingerprint app.
Rival Software Casinos is also known for supporting aspiring developers. If you're interested in joining the industry directly and maybe even developing your own video games, Rival has the integration policy which has launched careers of many talented developers with fresh ideas. If you want to buy soft from Rival Software Casinos (or some other providers) you can do this by contacting the 2WinPower company. Just submit a form on our site and consider the deal done.
Contact us:
Be careful! We noticed that cybercriminals are using the Skype account live:twowinpower to deceive our customers.
For security reasons, please enter only contact details published on the page https://2wpower.com/en/feedback
Our company is not responsible for the actions of persons using Skype live:twowinpower.