Meet atmospheric and exciting freshness! 2WinPower team announces the partnership with BrandGames brand and offers to your attention an exciting slot game John Wick 3.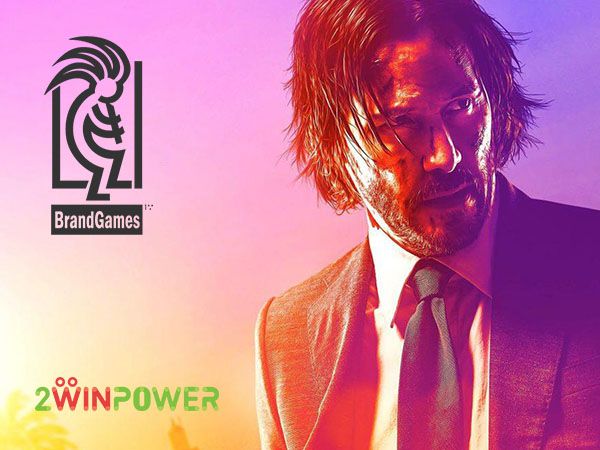 This new machine is designed specifically for the premiere of the eponymous detective thriller. Magic fruit mixes are fading into the background, giving the way to stunningly realistic themed entertainment. Join the world of mob hits and fearless defenders of good, playing the exciting John Wick 3 slot!
Some Information about the Developer
BrandGames history began in 1995. Despite a large number of high-tech solutions and more than a creative team, the company does not strive to participate in a tough struggle for the first place in the world market of excitement. Moreover, it cannot be compared with other gaming content providers, as the brand orientation is completely different.
The developer considers gambling a universal language of communication. The company has created a number of unique solutions that have made it possible to turn actions in the usual "seller-buyer" chain into an interesting adventure.
Briefly Review of John Wick 3 by BrandGames
The game was released just in time for the official release of the iconic Thriller. Fans of excitement will again face the elite hired assassin John Wick and help him to escape from New York. A new hunt began for the killer: breaking the rules of the hotel "Continental", the main character is forced to desperately fight for his life.
Running John Wick 3 slot, the player will act as a fighter for justice, who dared to "stir up a hornet's nest". Dizzying pursuits, meetings with delightful but treacherous strangers, shootings and ambushes — this is not the whole list of adventures that await fans of excitement, decided to fight the large armies of hired killers. But the reward is worth it: the player will not only get a lot of unforgettable impressions but also a chance to significantly improve the financial situation.
Conclusion
Stunningly realistic graphics of John Wick 3, exciting plot twists and good payouts have made the machine one of the most anticipated novelties of the year. Do not miss the chance to increase profits and order an atmospheric slot from BrandGames in the 2WinPower company!
Our experts will provide detailed information about the product and offer the most loyal terms of cooperation. Contact us and personally assess the merits of this choice, ordering a demo version of the game John Wick 3.
Contact us:
Be careful! We noticed that cybercriminals are using the Skype account live:twowinpower to deceive our customers.
For security reasons, please enter only contact details published on the page https://2wpower.com/en/feedback
Our company is not responsible for the actions of persons using Skype live:twowinpower.